Beautiful Fireflies Glowing in the Dark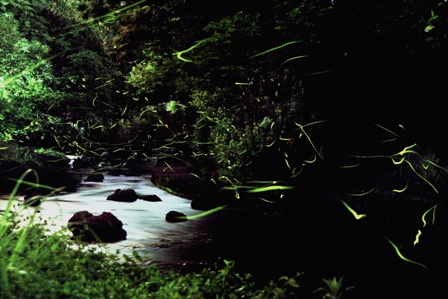 Stories related to candles, fire, lights and darkness
--the city of spring water from Mt. Fuji, Mishima, Shizuoka
Fireflies glow softly in the dark on summer nights. A stream of light appears in the dark when fireflies are in the air. It is a work of art in lights drawn by "little shooting stars." In Japan, fireflies are harbingers of summer, and have been lovingly referred to in poetry from ancient times. We can find fireflies in novels and poems of the Nara and Heian Period, more than 1,000 years ago.
For the past 40 years, however, fireflies have been decreasing in Japan because of changes in the environment--water pollution, drastic use of chemical fertilizers, and using concrete on waterways at farms.
Mishima City in Shizuoka Prefecture is one rare place we can watch fireflies. The city, with a population of 110,000, is located near Tokyo, a one-hour ride on the bullet train. It has been called the "city of water", because it has many springs streaming from Mt. Fuji, where rain and snow are filtered through underground lava. Fireflies here are called "genjibotaru" and can be seen as early as the first week of May, one of the earliest times in Japan.
Fireflies once disappeared from Mishima around 1970 because of rapid environmental changes. The plentiful spring water it once had gradually decreased. Kohama Pond and Gempe River located downtown dried up.
This was due to the change of people's lifestyles during rapid economic growth at that time. Large factories were built in the city and pumped underground water. Rivers in the city were polluted and used as dumpsites.
Then, citizens of Mishima started to take action. In cooperation with the municipal government, they cleaned up the rivers. In 1992, clean used water from a nearby textile mill was released into the Gempe River. "Mishima Hotaru no Kai," a non-profit organization to preserve fireflies and their environment, released fireflies near the river. They used marsh snails for baits into the river.
Hajime Shimura, president of the organization said, "The Gempe River flows downtown, only a five-minute walk from Mishima Station. The surroundings are not always good for fireflies--some places need to continue to release larvae every year. When we clean the river in early May with our neighbors, we are careful not to step on the chambers for larvae formed in the soil."They have worked for the preservation of fireflies and their surroundings for a long time.
They have been successful in providing beautiful fireflies with what they need to survive. Every summer, we can see fireflies in Mishima City.
Depending on the weather, spring water from Mr. Fuji may suddenly gush from the surface. The water level and water quality of rivers differ every day and every year. Fireflies are indicators of rivers' water quality.
Fireflies only live a week to 10 days after emergence. People have long cherished the beauty of fireflies in the dark.
(Taeko Ohno)
June 19, 2009