Candle Night with Turban Shells and Waste Cooking Oil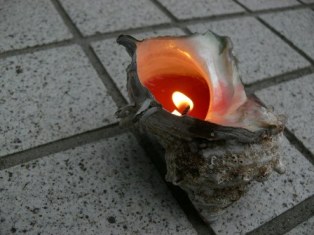 A Candle Night event was held at the Global Environmental Information Centre in Shibuya, Tokyo on June 20, 2009. The candles were handmade by participants in the afternoon, using turban shells and waste cooking oil. In the evening participants enjoyed a live music performance in the "turban shell" candlelight.
The "Environment Volunteer Fair" was held on the same day. Among the many booths, the eco-candle workshop using waste turban shells and waste cooking oil attracted 40 participants. It was jointly organized by the Tokyo Oil Field 2017 project of U's Corporation, a student organization "wakk-AHO-lic" (a pun of "circle" and "workaholic" in Japanese) of Nihon University and the "No-dai Oil Field Project" of the Tokyo University of Agriculture.
The Tokyo Oil Field 2017 (U's Corporation) runs a project where they collect waste cooking oil from homes and restaurants, and tries to recycle all collected oil into bio-diesel fuel, raw material for paint, and soap. They promote the idea of recycling waste cooking oil into resources, and aim to recycle all of the waste cooking oil in Tokyo by the year 2017.
Handmade candles are one form of recycling. To do this, put some waste cooking oil into a pan and warm it for a while. Add solidified material to it and add color with sliced crayons. Add two or three drops of aroma oil. Wait for a while and you will enjoy eco-handmade candles from waste cooking oil.
One key part of the workshop was to use waste turban shells. The idea was brought by students of Nihon University. Hiromitsu Terauchi, chairman of the group, said that the group is named "wakk-AHO-lic", meaning to connect "wakka", or circles, of people and to get involved in the process like a kind of "workaholic". The group's focus is on food. When they had a candle night event in December 2008, they used waste cooking oil that came from a school cafeteria and poured it into aluminum containers. After the event, they discussed better ways to make the candles. One of the members introduced the idea of using waste turban shells. They could get them at seafood restaurants and food stands around Enoshima, a seaside town close to the Metropolitan area.
Usually, seafood shells are discarded as waste at restaurants and inns. They used the waste shells for candle containers at the event. The workshop was a result of connecting waste cooking oil and waste turban shells. It also connected people from Tokyo Oil Field 2017, students of Nihon University, and Tokyo University of Agriculture, as well as people who came and enjoyed Candle Night.
In the evening, turban shell candles were placed in a circle. The shapes of the shells varied in nature. They were no longer waste, they were candles. As they were lit, the light of the circles gradually spread. Participants enjoyed the candlelight with calm and peace.
(Taeko Ohno)
July 31, 2009