Lucia Celebration in Sweden
On December 13, people in Sweden and other Scandinavian countries celebrate Saint Lucia, who brings "light" to the darkness of winter. It is traditional for the eldest daughter in the family to portray Saint Lucia. She serves coffee to family members early in the morning. Lucia is dressed in a white gown with a red sash around her waist. She also wears a wreath with lighted candles in her hair.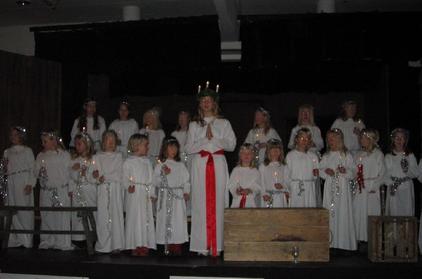 Lucia Celebration is also held in hospitals, schools, offices and other public places, making it one of the most favorite holiday traditions in Sweden. Churches have Lucia concerts, where a Lucia, dressed in white, and a train of children hold candles and sing Lucia songs and Christmas carols. In many cities, there is a parade of children dressed in white, who walk through the streets singing traditional songs. You will see many Lucias on that day. If you are lucky (or unlucky) you will see a man dressed as Lucia!
On Lucia day, people eat "lussekatt," saffron-flavored buns. There are several stories about the origin of the name, but their unique shape topped with raisins resemble cats. "Katt" means cats. Ginger cookies are also traditional Lucia sweets. In addition to coffee, "glogg" (mulled wine with raisins and almonds) is also served. Lucia Day, which falls on the winter solstice according to the Julian calendar, offers hope that the dark winter nights in Sweden will start getting shorter day by day.
Yuko Kishikami, Candle Night Committee
December 22, 2006