Candle Night at Harajuku Cat Street
"Creator's Candle Design Exhibition," a new kind of event, was held at the "Candle Night at Harajuku Cat Street" in Tokyo on December 21, 2004.
The "Candle Night at Harajuku Cat Street"has been held on the nights of Winter Solstice since 2002. Every year, design students decorate using candles under the theme of "Proposition to Reduce Excessive Lighting from Urban Nights."
In addition to the decoration, "Creator's Candle Design Exhibition" was held in 2004, in which creators in various fields such as graphic design and city planning, joined in and designed artistic candles for the exhibition.
The participants were Naoto Fukazawa, Ayumi Han, Taku Sato, Kazuko Fujie, Hidetoshi Ono, Kaoru Mende, Kazunari Hattori, Yasuhiro Suzuki, and Ryosuke Uehara & Yoshie Watanabe (D-BROS). Those foremost creators designed candles, seeking "a new candle design," which is a simple but challenging theme. Thus ten sets of unique art candles were created and showcased on the fifth floor of "Tree of Life "at Harajuku, a shop dealing with herbs, essential oils and so on. With the lights turned off, the candles were burning with dim flames in the dark exhibition site, displaying their design challenge.
Kaoru Mende, a lighting designer, created artwork named "Eroding Paraffin Lake," a flat white candle embedded with blue candles. As the candle burns, the blue and white wax melts creating a beautiful blue lake spreading across the white shore with an orange flame flickering on the lake.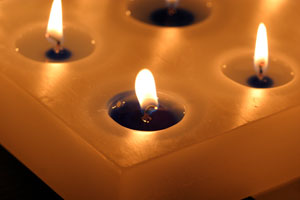 Yasuhiro Suzuki, an artist, focused on the dissolving nature of candles and created three art candles: "Balance Scale," "Cup and Ball," a Japanese traditional wooden toy and "Spoon." The balance scale made of candle wax was displayed first unbalanced, then its irregularly set wicks were lit and started to melt and ended up balancing at a certain moment. The moment was so fantastic and the visitors who happened to see it balance were excited with the intellectual performance.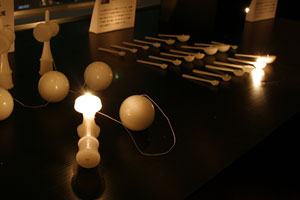 Taku Satoh, a graphic designer, made a candle in the shape of plastic bottle bottom, named "Rutobotoppe", a back slang of "Pettobotoru," which means a "Plastic bottle" in Japanese. The uniquely designed candle molded a plastic bottle upside down with a wick in the center of the bottom of the bottle. The artist who designed package for a plastic beverage bottle before, wanted people to notice how beautiful the bottles are and also humorously expressed the phrase "being lit on one's bottom" meaning to be pressured to meet the deadline, because this exhibition was held on winter solstice, around the end of year, the busiest time of year in Japan.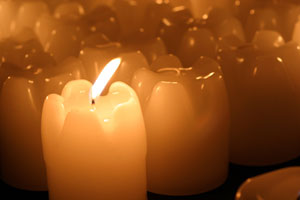 There were other candles that creators designed focusing on the shadows of flames, expressing how candle wax melts. Those exhibited ten sets of art candles, reflecting each creator's idea and style, entertained people who visited the exhibition.
Even though, those ten sets of candles were artistic expressions by the creators, they gave visitors encouragement to enjoy nighttime in the dim candle light. We hope to keep on holding new types of events like this one.
"The Creator's Candle Design Exhibition"
Time: December 21, 2004
Place: Tree of Life, Harajuku
Participants: Naoto Fukazawa, Ayumi Han, Taku Sato, Kazuko Fujie, Hidetoshi Ono,
Kaoru Mende, Kazunari Hattori, Yasuhiro Suzuki, and Ryosuke Uehara + Yoshie Watanabe
(D-BROS),
Co-Sponsored by Kameyma Candle
Ayako Shimizu
Candle Night Committee

May 15, 2005