Candle Night Winter Solstice 2006--Kobe, Japan
On the evening of the winter solstice, December 22, 2006, from 8 to 10 pm, Candle Night events were held in Japan and the world. On the Candle Night website, 280 events were registered. In this newsletter, we'd like to show our readers the event held in Kobe City in western Japan.
Kobe City is a traditional port town in western Japan with a population of around 1.8 million. It is a popular destination for tourists. Old western-style buildings still remain in the city, featuring an exotic atmosphere. Kobe is also famous for its "10 million dollar night view."
On December 22, youth from ages 16 to 26 held a Candle Night event. They aimed to enjoy the night without "10 million-dollar" artificial electric lights, even if it was only temporary. They formed a committee called "Ho-ki boshi" (meaning a comet in English) and organized a Candle Night at a seaside park. Around one thousand people joined the event, decorating 5,000 candles.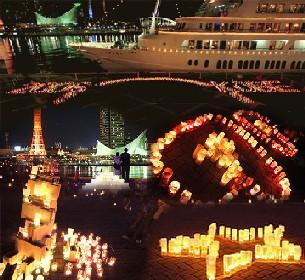 The city of Kobe and surrounding areas suffered from the Great Hanshin-Awaji Earthquake on January 17, 1995.
Over six thousand people died. Ten years have passed since then, but many people who lost their families still feel psychological pain. One of the staff members of the organization said that after joining the Candle Night event, he could, for the first time, attend a memorial ceremony for his grandparents who died in the quake. He said he felt something change in his mind during the Candle Night event.
Candle Night offers time to enjoy oneself in their own way. During the next Candle Night, something may change somewhere in the world.
(Yuko Kishikami, the Candle Night Committee)
Photo courtesy of Ho-ki boshi, Kobe
March 2, 2007