Preparation also Underway in Candlelight--South Korea Winter 2006
On December 22, 2006, Candle Night was held in Seoul, South Korea. The Korean Women's Environmental Network (KWEN) called people to join Candle Night. KWEN is a non-governmental organization. It consists of women who pursue a Green Society where every member of the society is equal, and where human beings can coexist with nature.
On that night, about 100 KWEN members gathered at the Korean Traditional Music Hall. They enjoyed several events in candlelight: a gag concert, a magic show, belly dance, hip hop, a cappella, blind dance, and hugs in the darkness.
The performance was conducted in candlelight, starting from the preparation stage. Food and drinks were all organic and traditional. Ms. Eunjin Park, an organizer of the event, told us that candlelight gave them light and atmosphere that no electric lights could.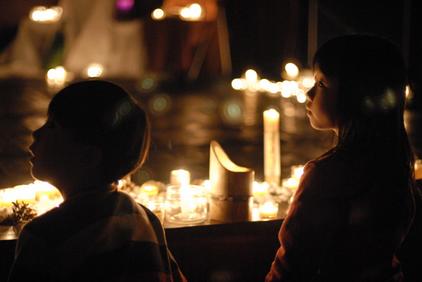 KWEN plans to participate in the next Candle Night on Summer Solstice 2007. How about holding Candle Night where you live? Please contact us and let us know how you plan to experience Candle Night Summer Solstice 2007.
(Yuko Kisikami, Candle Night Committee)
Photo courtesy of the KWEN